Costa Rica is our premier adventure travel destination.  You will find a paradise for educational and safe wildlife viewing and active adventure in both 7 and 11 day itineraries. We offer a whole new way to explore warm water rivers teeming with exotic birds, wild life, and reptiles lead by English speaking guides and naturalists. You'll discover eco-systems and natural history while exploring easy rivers… class I, II, and an optional Class III for even more excitement. We also hike, zip line, swim beneath waterfalls, ride bikes and horses, dine on healthy Costa Rican cuisine, sleep in comfortable country lodging and relax on beautiful beaches.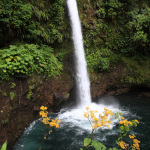 Costa Rica is world renowned for its breathtaking flat-water wildlife paddling, full of amazing bird and wildlife. Abundant rainfall, warm water, and a wide variety of rivers, eco-systems and biodiversity are what make Costa Rica's forest a paradise for paddlers and adventurers.
SOAR has created a unique paddling, hiking and outdoor adventure that features the best of Costa Rica's rain forests, national parks and rivers, and a chance to feel the Pura Vida of Costa Rica life. This 11 day itinerary visits remote locales and provides you with many occasions for close observation of exquisite flora and fauna.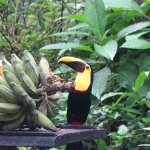 The phrase "Pura Vida" is more than just a slogan designed to lure tourists to Costa Rica.  It is a greeting, a mentality, and a way of life.  Our trip strives to convey the feeling of Pura Vida when we spend three nights at a remote farm and are treated to the wonderful hospitality of old-style Costa Rica.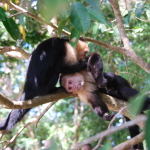 All trips are led by Rodolfo "Fofo" Campos-Montero, a native Costa Rican naturalist, river and tour guide.  Fofo's warm, friendly nature, his breadth and depth of knowledge of all things Costa Rican, and his pleasure of showing off his country will make you a friend of his for life!