Paddling Pura Vida
Coast to Coast
A Unique Multi-Sport Adventure
Paddling & Exploring
in the Rainforest!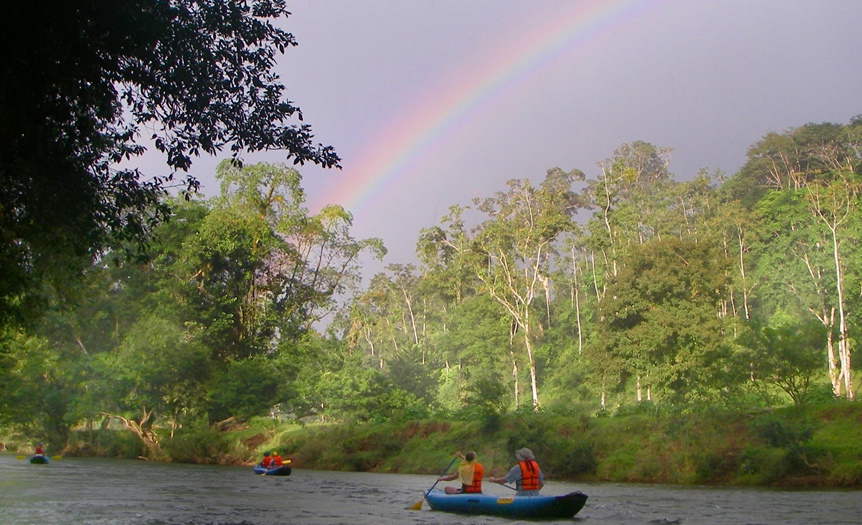 February 26 ~ March 12, 2017
14 Days – 15 Nights
$3245 pp (based on double occupancy)
6-10 Novice-Intermediate for  Fit, Adventurous, Curious Adults

*Amazing Wildlife  
*Beautiful Birds
*Indigenous Cultures
*Rich Biodiversity
*Paddle 8 Days
*Hike
*Zipline
*Horses
*Get Wet in the Caribbean & the Pacific
*Swim Beneath Waterfalls
*Sleep in Comfortable Lodges
*Eat Great Food
ITINERARY:
Day 1 – Arrive San Jose, Costa Rica in time for 6 pm group meeting.
Day 2 – Morning transfer from San Jose area hotel to the Caribbean coastal town of Puerto Viejo in our comfortable Coaster bus.   Afternoon ocean / beach time.  (B,L,D)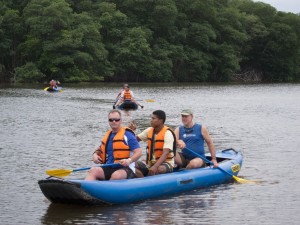 Day 3 –  Our initial day of paddling SOAR canoes.  We embark on the amazing Laguna de Gandoca with our resident guide Chico, followed by a home cooked meal by his mother Doña Gladys.  In previous trips to  Gandoca, we have seen all species of monkeys, and a myriad of birds, and caimen.  We'll experience a wild stretch of the Caribbean coastline, little changed since Spanish explorers sailed these shores hundreds of years ago. (B,L,D)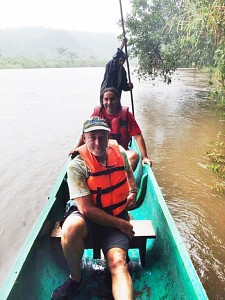 Day 4 – We will meet our Briri hosts in a small village and climb into their motorized dugout canoes as we motor and pole our way up the rocky rapids of the Rio Yorkin which forms a portion of the Costa Rican border with Panama.  We'll spend some time in the tiny village of Yorkin, and see how indigenous Bribri live, survive on the land, and have assimilated into Costa Rica life.  After another homecooked meal, we'll paddle our SOARs downstream, taking the time to search for birds and wildlife in between stretches of Class II rapids.   (B,L,D)
Day 5 – Leaving the coast behind, we'll drive to the world renowned Rio Pacuare Class III-IV for a 2-day overnight trip.   We will have a combination of guided paddle rafts and SOAR canoes for those comfortable paddling some of the Pacuare's near continuous rapids.  We'll spend the night at our outfitter's camp on a hillside overlooking the rio in platform tents.  A special dinner awaits!  (B,L,D)
Day 6 – More rapids and excitement awaits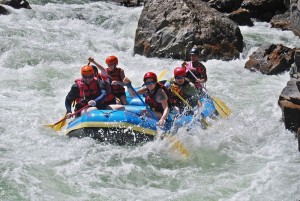 before our take-out on the Rio Pacuare in the morning.  Then we transfer to the Sarapiqui region a few hours away.  (B,L,D)
Day 7 – We will learn a lot about the rainforest this morning, as we have a guided hike at the La Selva Biological Preserve OTS.  This splendid research facility will provide many answers and clues to the symbosis in this region's rich bio-diversity.  Typically, we see amazing bird and wildlife on visits here.   Lunch will be special…that's all I'm saying.  In the afternoon, we will paddle a fun section of the Rio Sarapiqui  Class II-III,   (B,L,D)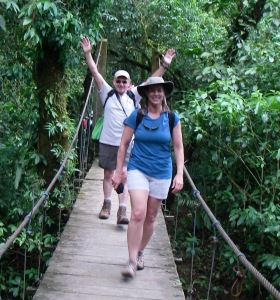 Day 8 –  Today we transfer to the Tenorio Volcano region. Along the way, we will make a brief stop to see the artisan crafts of teh Maleku indigenous tribe.  We'll spend part of the next 4 days at a small rustic lodge and farm, where we will experience what the term "Pura Vida" means. (B,L,D)
Day 9 – We will paddle the Rio Pizote, a gem of a river on the north side of the Miravailles Volcano that we ran for the first time in January and March, 2015.  The bird and wildlife were incredible both times.  We will have a local bird and wildlife guide accompany us.  Late afternoon will be spent chilling at the lodge in a hammock, in the creekside hotsprings, in a rocker by the fireplace, or perhaps riding a gentle horse around the property.  (B,L,D)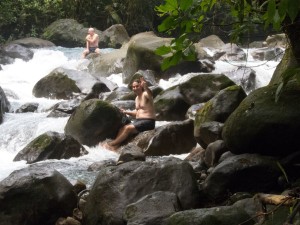 Day 10 – Only a short drive from our lodge, we'll hike in the Tenorio Volcano National Park to see the amazing turquoise Rio Celeste waterfall, and the place where two normal looking creeks join together, and create this travertine wonder.   Although we are no longer allowed to swim at the base of the falls, we have a secret swimming hole just a short distance downstream of the National Park.  Our local friend Don Wilbur will have a riverside lunch waiting for us, and we stay cool in the swimming hole or play in the boulder garden just upstream.  Late afternoon back at the lodge.  Pura Vida. (B,L,D)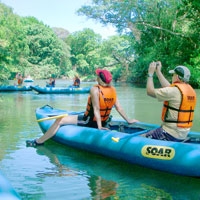 Day 11 – Crossing over the ridge to the Pacific influenced climate of the dry forest, we'll spend a few hours exploring and search for the amazing bio-diversity of the Rio Tenorio. We've always had great closeup sightings of wildlife, birds and reptiles of all kinds.   Class I-II  Late afternoon at the lodge. (B,L,D)
Day 12 –  On the road early, we begin our transition to the Central Pacific coast.  In late morning we'll take a break for a very fun Canopy Tour / Zip Line.  The fastest zipline on this 14-platform course is about 45 mph on a near 1/2 mile cable!  After a beachside lunch and a chance to dip our toes into the warm Pacific waters, we begin our search for scarlet macaw, those bright red parrots that are usually found in pairs squawking and preening each other.  We will arrive at our Manuel Antonio hotel, steps from the National Park.  The rest of the day can be spent swimming the Pacific, exploring the touristy village of MA, our lounging in the pool bar-side! (B,L,D)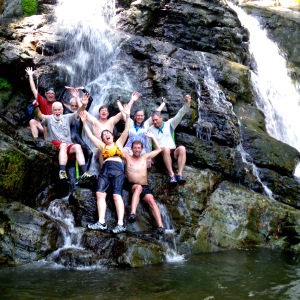 Day 13 – Today's final river run is the achingly beautiful Class III Rio  Savegre.  Recently given a 25-year reprieve from dam-building, the Rio Savegre will give us pretty easy, but exciting Class III boulder garden runs.   Our final night together will be a celebration of our two weeks together, having explored Costa Rica the way few ever do! (B,L,D)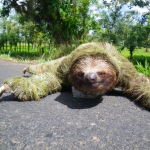 Day 14 – We'll take our time heading back to our San Jose hotel, stopping several times for watching birds, and then at the famed Tarcoles Bridge to watch the massively large crocodiles cooling off in the waters of the Rio Tarcoles.  Late afternoon arrival at our airport hotel.  (B,L)
Day 15 – Fly home. (B)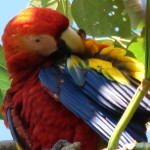 Includes:
All lodgings, all meals (except where noted below), all entry fees, equipment and guides, activities & all transportation including airport transfers.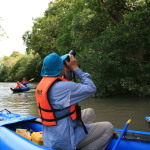 Does Not Include:
Airfare, souvenirs, tips, incidentals, any costs associated with days before or after itinerary or excessive alcohol consumption.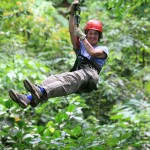 Payment Policy:

A
$500.00
deposit shall be paid at the time of reservation. Balance to be paid 45
 days
prior to departure.
Early Bird Reservations:
90 days prior to departure: $3095 pp save $150
60 days prior to departure: $3145 pp save $100
Any cancellation more than 30 days prior to departure will receive a full refund. Cancellations more than 15 days prior to departure will receive a 50% refund of amount paid. Cancellations less than 15 days prior to departure will not receive any refunds.