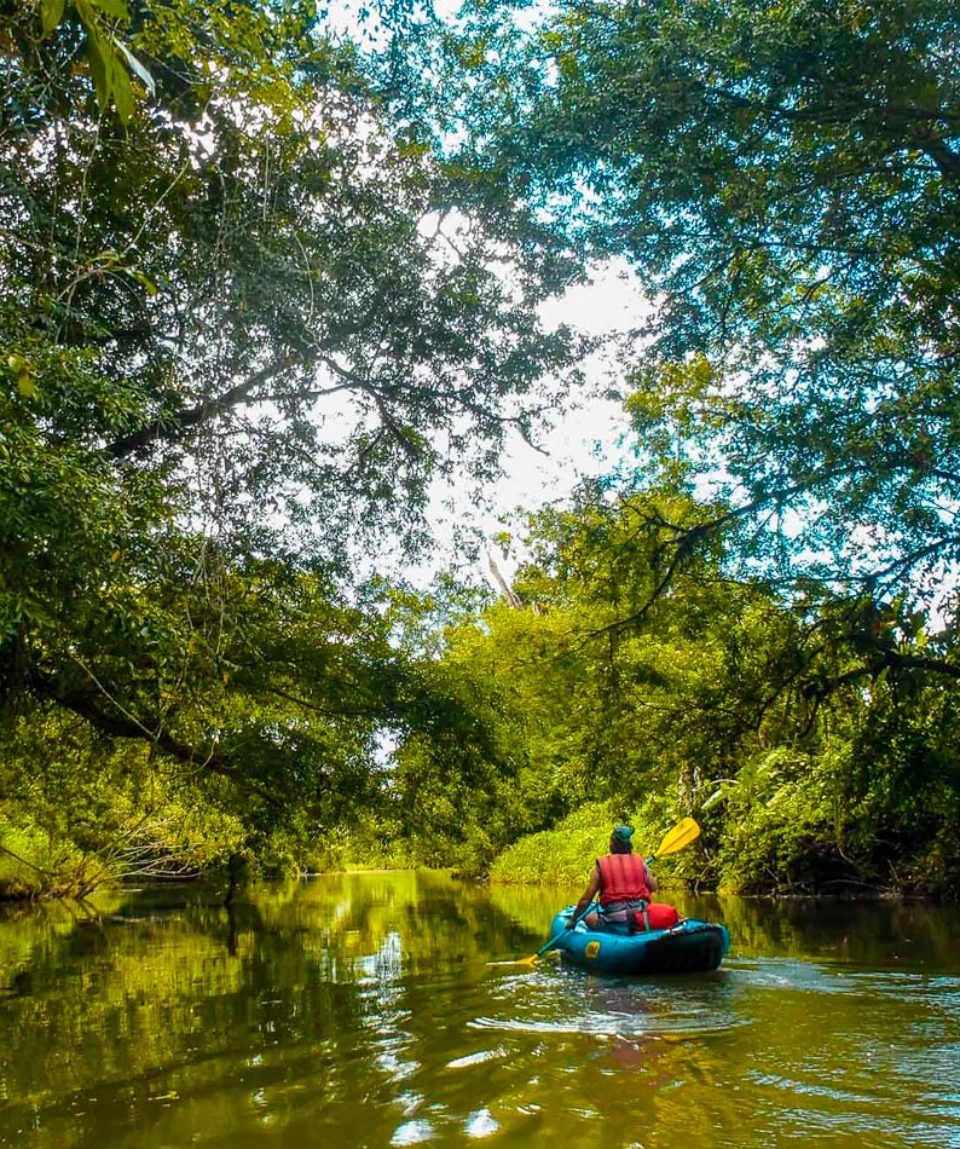 A Paddle Back in Time – Nicaragua
from
$
2,345.00
(Based on Double Occupancy)
Imagine Costa Rica 50 years ago… no hustle and bustle where we travel and have a very authentic experience. As we travel along rarely visited tributaries of the historical Rio San Juan, we will encounter locals in dugout canoes, families washing clothes, bathing and fishing along its banks. We'll visit a 17th century fort that protected Spain's interests from marauding "Pirates of the Caribbean" such as Sir Francis Drake! Tourist infrastructure is very simple, but comfortable. Roads, when we occasionally use them are bumpy. Birds, wildlife and monkeys are everywhere! You will hear the deep-throated roars of howler monkeys virtually every day!
Nicaragua is emerging as the "new destination" in Central America. Long in the shadow of the more prosperous and developed Costa Rica, Nicaragua also endured years of economic and political repression. The country has been at peace for almost 20 years, and the people of Nicaragua.
This trip is led by Larry Laba and Fofo Campos-Montero. In the fall of 2010, Larry, Fofo and two other fellow adventurers set out to explore the southern a part of the largest country in Central America. Besides being steeped in the history of the Spanish Main and conquistadors of the 17th century, we found a country very much at peace, with wonderful, open people, and a culture much different from its neighbor, Costa Rica, to the south.
Vacation Style Holiday Type

Activity Level

Easy to Moderate
Day 1

Arrival at Location

You must arrive no later than the evening prior to departure on Day 1. An early morning start begins with a goal of reaching our final destination, a world apart! The mini-bus arrives loaded w/ inflatable SOAR canoes and river gear.  We load our personal luggage into the vehicle, and we head north to the small riverside town of Los Chiles, Costa Rica.  At Los Chiles, we clear immigration from Costa Rica, and board our private "lancha" (a riverboat taxi) that will take us on a fascinating ride down the Rio Frio to easternmost Lago de Nicaragua, and the town of San Carlos, Nicaragua.The group and our gear must clear customs in San Carlos, and then we take another lancha down the Rio San Juan to our riverside jungle lodge. This amazing place, perched under the jungle canopy right at the river's edge, will be our home for 3 unforgettable nights, and our base for exploration of the Rio San Juan and several tributaries. (B,L,D) 

Day 2

Rio Sabalos

Transporting SOAR canoes via lancha and Land Rover to a remote put-in on the Rio Sabalos, a tributary of the Rio San Juan, we float and explore the wonderful rio, as we paddle back to the lodge. (B,L,D) 

Day 3

Rio Santa Cruz

Transporting SOAR canoes via lancha and Land Rover to a remote put-in on the Rio Sabalos, a tributary of the Rio San Juan, we float and explore the wonderful rio, as we paddle back to the lodge. (B,L,D) 

Day 4

Rio San Juan

This morning we re-inflate our SOARs right at the Lodge, bid farewell to the delightful staff, and paddle downstream on the wide and beautiful—and historically significant– Rio San Juan to the small riverside town of El Castillo.  We will eat lunch (river shrimp are a specialty here!!), visit the 17th century Spanish fort, and spend the night in a local inn where caimans and turtles can be easily seen from the front veranda. (B,L,D)

Day 5

Ferry to Ometepe

Today is a long, exciting day of transition. We board an early morning public lancha (think "river bus") with all our gear and head upstream back to San Carlos.  After lunch, we will board a large, reliable public ferry for an 11-hour ride to Ometepe, the largest island in the largest lake in Central America. Arrival time in Ometepe is scheduled for approximately 1 am.  We will be met by vans and transported to our hotel. (B,L)

Day 6

Ometepe Island

After our late arrival, we will have a late morning.  We will orient ourselves on Isla de Ometepe, a hundred-square mile magical island—still off-the-beaten-path– with pristine forests, archaeological treasure troves, wildlife, and two majestic volcanoes- one of which, mile-high Volcan Concepcion, is still active.  We will explore an old shade coffee plantation, examine ancient petroglyphs, and feel the power of the native legends of Ometepe. (B,L,D) sm food

Day 7

Paddle close to volcanoes

Today we paddle across a small bay with breathtaking views in search of one of the shortest rivers in the world: the Rio Istian, which flows through a small strip of land between the soaring volcanoes!  Birds and caiman abound here.  We will stay as long as necessary exploring the rio.  Once we emerge back onto Lago de Nicaragua- the same lake that the Spanish conquerors called a 'fresh water sea' because of its sheer size- we paddle down the coast to the small village of Merida.  The night will be spent in a comfortable lodge overlooking the lake where brilliant sunsets and sunrises are accompanied by the roars of howler monkeys.(B,L,D)

Day 8

Paddle to Monkey Island

After a hearty breakfast, we board our lakeside SOARs for a paddle, first to Monkey Island (and, yes, there are two species of monkeys on the tiny islands), and then along the coast to San Ramon.  We deflate our SOARs for the last time on this trip, and hike to the San Ramon waterfall, Ometepe's highest. Hiking difficulty is moderate, about 4 hrs round trip.  We lunch at a local "comedor" and then hike back to our lodging. (B,L,D)

Day 9

Hot springs relaxing

Our driver will take us to the far side of Volcan Concepcion and the port village of Moyogalpa.  We climb aboard a ferry, and enjoy the stunning views of Ometepe during the one hour boat ride back to the Nicaraguan mainland.  We will be met by a local transport company who will take us to the Nicaraguan border, and assist us with exit procedures.  We will then cross into Costa Rica territory, where we will be met by our transportation. After a quick lunch break back in "civilization", we stop in the early afternoon at a hot springs resort on the slopes of the Volcan Miravailles for a relaxing afternoon and evening. Here, we will have our "farewell" dinner, basking in the knowledge that we have completed an adventurous trip that few adventurers have done before! (B,L,D) sm sunset

Day 10

Last day

All good things must come to an end, and this will be our final day. We drive back to San Jose, making several optional stops along the way.  Anyone needing to leave that day can book a late afternoon flight.  We will stay our final night at the same hotel where we met on Night 1, thinking back on all that we have witnessed and accomplished as we paddled back in time! (B,L)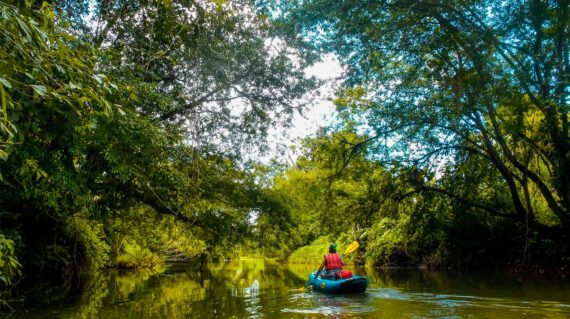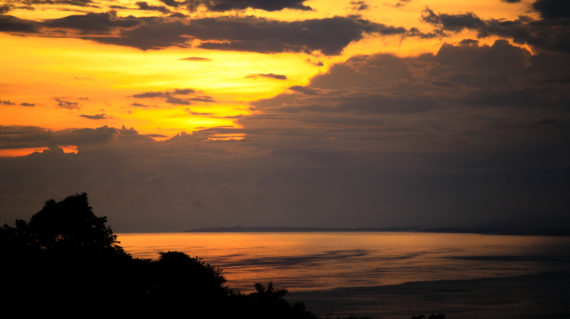 Do you have early bird specials?
120 days prior to departure: $ 2145 pp save $200
90 days prior to departure: $ 2245 pp save $100
How many days should I actually plan on being away?
What are starting and ending locations?
This trip starts in Managua – Nicaragua and ends in the same location, our guests must purchase airfare ticket to and from Managua.
What is the activity level of this trip?
From 6 to 14 People
This dates don't work for me, do you have any other dates available for this adventure?