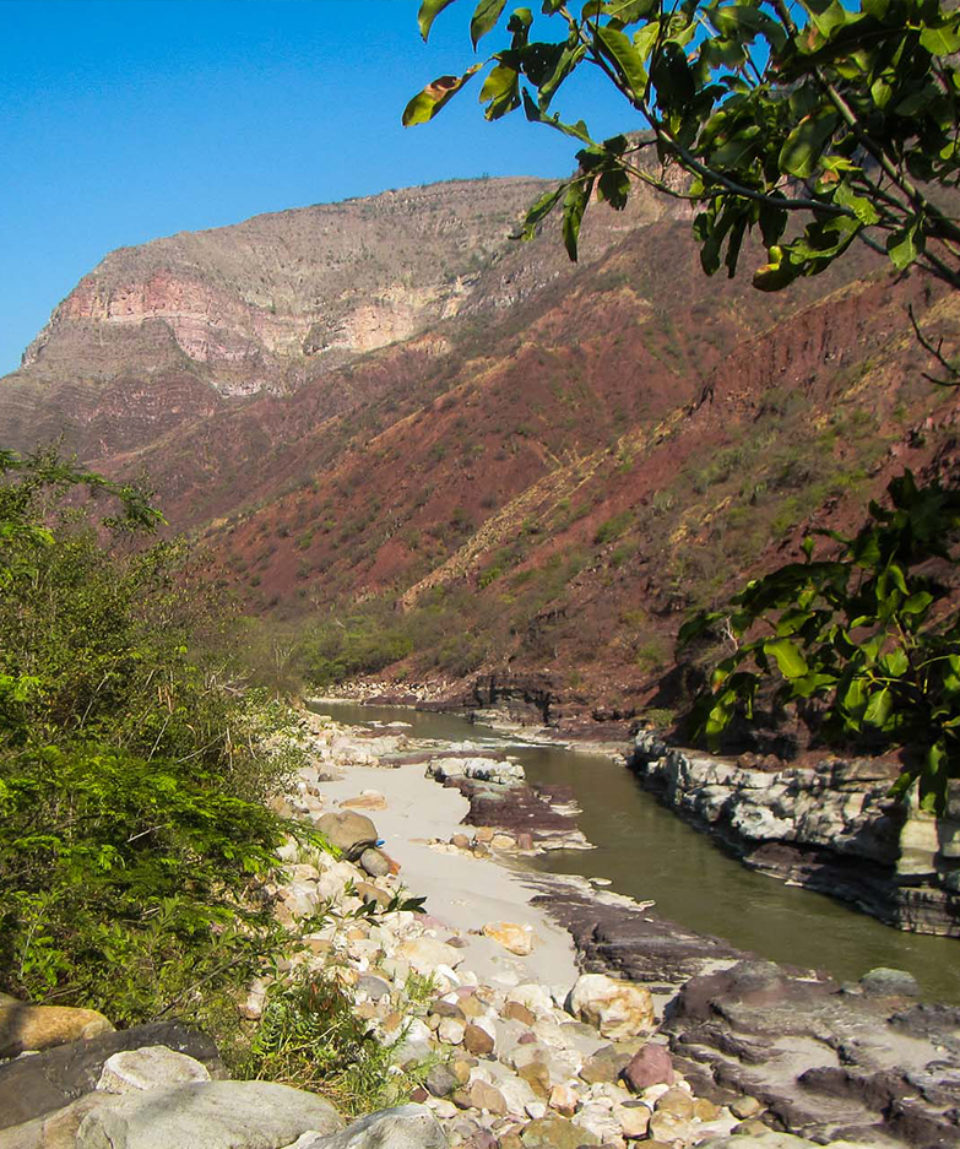 The Wild Canyon & Savanna Wildlife Exploration
from
$
2,250.00
(Based on Double Occupancy)
An Authentic Multi-Sport Adventure Exploring Desert Canyons & Lush Tropical Grasslands and meeting the People who live there!
Feb 23 – Mar 5, 2018
10 Days 11 Nights
*2-Day Class III Rio Chicamocha Descent** 
*Paraglide 2000 ft above the Cañon with Guide**
*Colorful Colonial Colombia
*2-Day Paddle on Class I Rio Aripor0
*2-Day Jeep & Horse Safari
*Rich Bio Diversity
*Spectacular Birding  
*Sleep in Comfortable Lodges
Vacation Style Holiday Type

Activity Level

Easy to Moderate
Day 1

Arrival at Location

Layover day at our boutique coffee plantation hacienda next to the Chicamocha Canyon.  We will explore the rim of the canyon in our van, plus we will hike around the plantation property.  Hikes and birding galore! (B,L,D)

Day 2

Chicamocha by river or air

We will split into two groups: People capable of paddling Class III whitewater for 2 days on the Rio Chicamocha, and if you are not a solid Class III paddler,**then you will see the Chicamocha Canyon from the air on a paraglider! Those of us on the river will spend the night in a small riverside hostel sleeping in hammocks. Those not paddling will spend the evening in San Gil, Colombia's adventure capital. (B,L,D) (for more information about either activity, pls contact me directly)

Day 3

Paddle, waterfalls and Barichara

Paddlers continue their 2nd day of paddling. Non-paddlers will visit a beautiful local waterfall and then hike the easy Camino Real from Barichara to Guane. Both groups with get back together and spend the evening in the charming Spanish colonial town of Barichara (B,L,D)

Day 4

Travel and Mongui

The morning will be spent exploring Barichara, considered by many to be the prettiest village in Colombia. We will begin a 2 day transfer to the Los Llanos region of Colombia. The night will be spent in another appealing off-the-beaten track village, Mongui. (B,L,D)

Day 5

Laguna de Tota

Mongui Morning free to explore Mongui, and then we will transfer to Yopal in the afternoon, taking a break at Laguna la Tota, Colombia's largest natural lake. (B,L,D)

Day 6

Ariporo and camping

We head to our put-in on the Rio Ariporo, a Class I river with a lot of bird and wildlife. We will camp on a sandbar in either tents or hammocks. (B,L,D)

Day 7

Jeep Safari

Continuing our paddle on the Rio Ariporo until we arrive at the Hato de Aurora Ecolodge for a 2 night stay. In the evening, we will take a Jeep safari looking for exotic birds (red ibis, jaibaru), capybara, caiman and anaconda.

Day 8

Horseback and Jeep Sunset

Another day of exploration of this large tract of land. We can explore on foot, horseback or jeep. At the end of the day, we can enjoy another spectacular sunset! There will be live music after dinner.

Day 9

Diner at La Candelaria

We transfer back to Yopal, and then fly to Bogota. This is our last night and we will celebrate our adventures with dinner and a comfortable hotel room in the La Candelaria neighborhood.

Day 10

Return to home

Fly home or continue elsewhere. We will be happy to assist you with any plans you might have.
Do you have early bird specials?
120 days prior to departure: $ 2050 pp save $200
90 days prior to departure: $ 2150 pp save $100
How many days should I actually plan on being away?
What are starting and ending locations?
This trip starts in Medellin – Colombia and ends in the same location, our guests must purchase airfare ticket to and from Medellin.
What is the activity level of this trip?
From 6 to 14 People
This dates don't work for me, do you have any other dates available for this adventure?