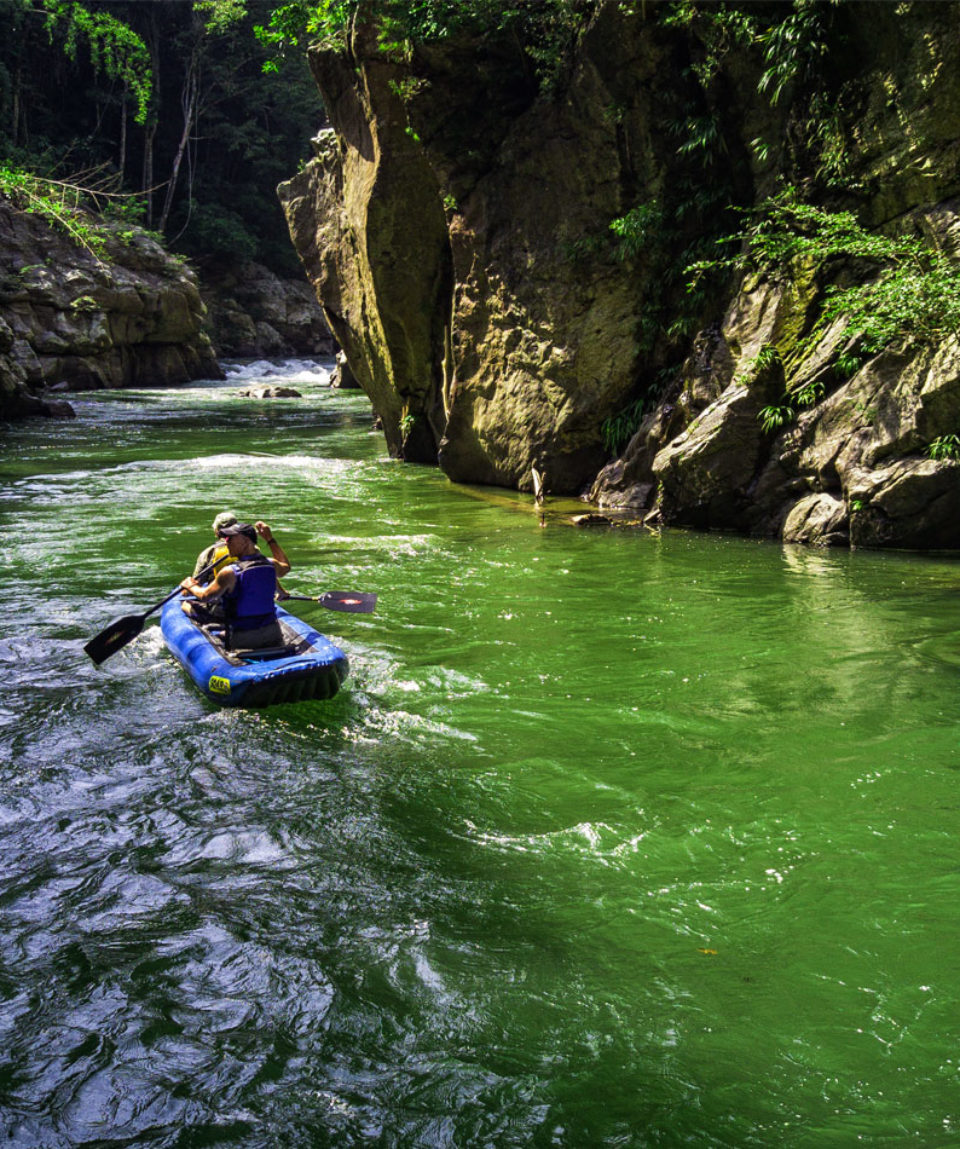 Central Andes Multisport Tour
from
$
2,995.00
(Based on Double Occupancy)
An Authentic Multi-Sport Adventure Exploring Forests & Mountains and Meeting the People Who Live There!
Feb 14 – Feb 25, 2018
12 Days 11 Nights
*Paddle 4 Easy Rivers
*Visit 2 National Parks
*Enjoy 5 Waterfall Massages
*Ride Horses into the Andes
*Soak in Mountain Hot Springs
*Discover a Unique Marble Cave
*View Amazing Birds and Rich Bio- Diversity
*Explore Colorful Colonial Colombia
*Sleep in Comfortable Lodges
Vacation Style Holiday Type

Activity Level

Easy to Moderate
Day 0

Arrival to Pereira

Please plan on arriving 2 days before Day 1. Hotel accommodations for two nights are included in the trip price.

Day 1

Arrival at Location

In the center of the Zona Cafetera our accommodations will be at the former family weekend hacienda of my friend Daniel Zuluaga. Daniel has created a warm, wonderful little inn just outside of town. (D)

Day 2

Valle del Cocora

On our first morning, we'll do a short exploration of the charming coffee-country village of Salento, before boarding a WW II vintage Willys Jeep for the spectacular Valle de Corcora. We'll pass through striking landscapes of the wax palm, Colombia's national tree, as we ascend into the Colombia cloud forest until we reach the Acaime Hummingbird Sanctuary.  On our return, we'll be treated to a late lunch of trout, the regional specialty. We will explore Salento more upon our return, and then head back to our lodge.  (B,L,D)

Day 3

Rio la Vieja

Our first day of paddling will take us to the easy Rio La Vieja which features lots of birds, monkeys and a waterfall hike.   There will also be an option of SUP'ing on a locally made bamboo SUP! Late afternoon salsa lessons and happy hour back at the hacienda . (B,L,D)

Day 4

El Cedral

We'll reorganize some of our personal gear as we prepare for an amazing 3-day excursion on horseback into the Andes. We'll take a beautiful road into the Andean foothills to El Cedral, the beginning of Los Nevados National Park (PNN). We will mount horses for a leisurely, and sometimes steep 5 hr ride up the mountains to our 2 night lodging in a rustic, authentic farm or "finca"  at 11,500 ft altitude. close to the "paramo" (high altitude Andean desert), where we'll visit Lake Otún which sits in the shadow of the perennially snow-covered La Tolima Peak. All camping gear supplied. (B,L,D

Day 5

Horseback Riding

Exploration on foot and horseback  of the other worldly scenery of the paramo. The paramo is one of the most unique ecological systems in the world. It is where Colombia gets a vast amount of its water supply, as unusual plants suck moisture from the atmosphere and pulls the moisture through its leaves and roots into ground where eventually the water forms swift creeks and rivers. (B,L,D)

Day 6

PNN Los Nevados

We're heading on horseback to the northern side of PNN Los Nevados to our destination: San Vicente Hotsprings, an amazing little hot springs spa resort, located in the cloud forest.  Here  we'll take a day to enjoy our surrounding and soak in the many pools. (B,L,D)

Day 7

San Vicente Hotsprings

Early in the morning, we will join a local birding guide for a hike in the surrounding forests.  The rest of the day at San Vicente is  unstructured. There are five different pools to choose from, optional spa services including mud therapy, algae wraps and massage. There are several hikes including exploring the creek that flows from the steep canyon, looking for places where hot water emerges and joins with the creek. (B,L,D)

Day 8

Arrive to Rio La Miel

We transition to the western edge of the Central Highlands driving through spectacular scenery over the Cordillera and down to the Rio Magdalena valley. By mid-afternoon, we will turn off our gravel road, and take a short, bumpy ride down a dirt road until it ends at Rio La Miel. We'll meet our local guide and boatman Caliche who will transport us in his long motorized riverboat to our riverside eco-lodge. (B,L,D)

Day 9

Rio Manso

Awaken to the sounds of parrots, parakeets, and toucans. Wander among the dozens of unusual tropical fruit trees. We will explore the beautiful Rio Manso in SOAR canoes today where a myriad of surprises await us.  (B,L,D)

Day 10

Rio La Miel

Paddling and exploring the Rio La Miel is on today's schedule. Birds, monkeys, river otter can all be spotted on the back to our lodge. Waterfalls are plentiful along this steep walled sides of the upper canyon that we will be paddling.  (B,L,D)

Day 11

Arrive to Rioclaro

An early morning boat ride upstream to our waiting bus, and we're off to a new destination: The Rio Claro Canyon, a natural reserve founded by honored conservationist Juan Guillermo Garces, has been developed in a sustainable way to allow Colombians (especially) to experience outdoor adventure in a fun, safe, responsible manner. Our cliff-side open-air accommodations are unique. (B,L,D)

Day 12

Rioclaro Paddling

We begin an active morning with a swim across the Rio Claro to a trailhead that will lead us around a mountain and to a wide opening of a cave. For 45 minutes, we will be guided through this spectacular marble cave until it reaches a large opening just above the Rio Claro. Swimming back across the river, we'll hop in our SOAR canoes for an easy Class II paddle, where we will likely see a wide variety of birds and other unexpected surprises.  For some of our guests, this might be the end of your adventure with us and you  will return to Medellin.  Others might continue onto further adventures! (B,L)
Do you have early bird specials?
120 days prior to departure: $ 2795 pp save $200
90 days prior to departure: $ 2895 pp save $100
How many days should I actually plan on being away?
What are starting and ending locations?
This trip starts in Medellin – Colombia and ends in the same location, our guests must purchase airfare ticket to and from Medellin.
What is the activity level of this trip?
From 6 to 14 People
This dates don't work for me, do you have any other dates available for this adventure?